Events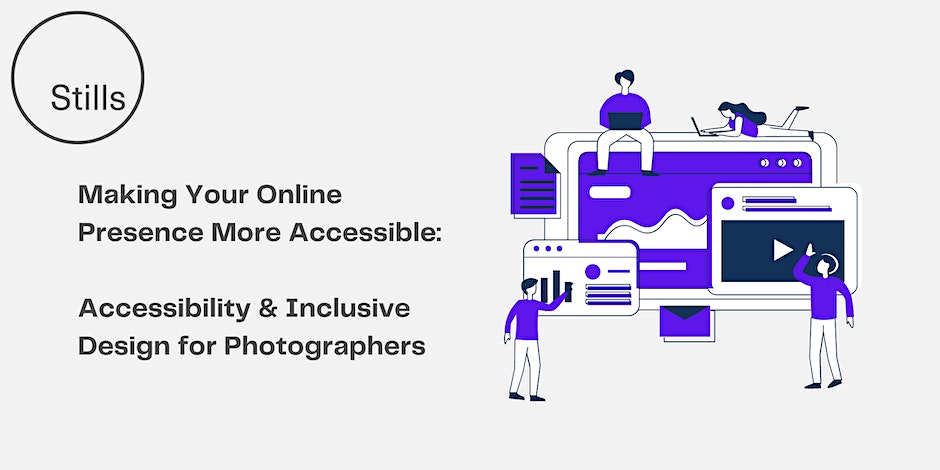 Join us for an event dedicated to exploring the importance of making your online presence more accessible. This in-person event will take place on Tuesday 29th August 2023 at 6pm in Stills.
Artists and photographers often publish their work online, but not everyone has equal access to technology and media. Many marginalised folks, disabled individuals and others for whom technology poses a barrier can't access it.
During this workshop, you will learn more about inclusive design and how to ensure everything you publish online is accessible to those who use assistive technology. We will try out some popular assistive technologies to see how disabled audiences use the web, so you can make more intelligent choices when publishing to your website or social media. Everyone can benefit from equal access, so let's explore that together!
Workshop Format
The workshop will take place seated in the gallery space, with a maximum of 30 attendees. You don't need to bring anything, except paper and pen for notes if you wish. The workshop doesn't require expert technical knowledge. Anyone who uses websites or social media to publish their work is welcome. There will be a half hour tea and coffee break in the middle giving you the chance to meet and chat with other attendees and your tutor Wojtek.
Who is it for?
While designed for artists and photographers, this workshop will benefit anyone who shares images and information online via websites or social media.
Who is the tutor?
Wojtek Kutyla provides independent UX and digital accessibility consultancy services, running his own company called Human Thing. He aims to empower businesses with tools that allow them to design mindfully and sustainably. He is also a photographer and works internationally from his base in Edinburgh, UK.
About the venue
Stills is accessible at street level from Cockburn Street. Please ring the doorbell if you require assistance entering the building. All public areas have non-stair access, via a general use lift. We have an accessible toilet one floor down from the main gallery, reachable using the lift.
Please email info@stills.org prior to the event if you have any specific access needs that you would like to discuss.
Ticketing
Please note: To ensure the event is accessible, we have 3 tiers of pricing, based on a pay-what-you-can system. Check the ticket tier for more information about this.
Please be honest with yourself and your financial situation. If you purchase a ticket at the lowest end of the scale when you could afford the higher ticket prices, it makes it harder for us to provide financial flexibility to those who need it.
We also have a limited number of tickets available at no cost for those who cannot afford to pay. If you would like to apply for these tickets, please email info@stills.org, no questions asked.