Exhibitions
kennardphillipps: Here Comes Everybody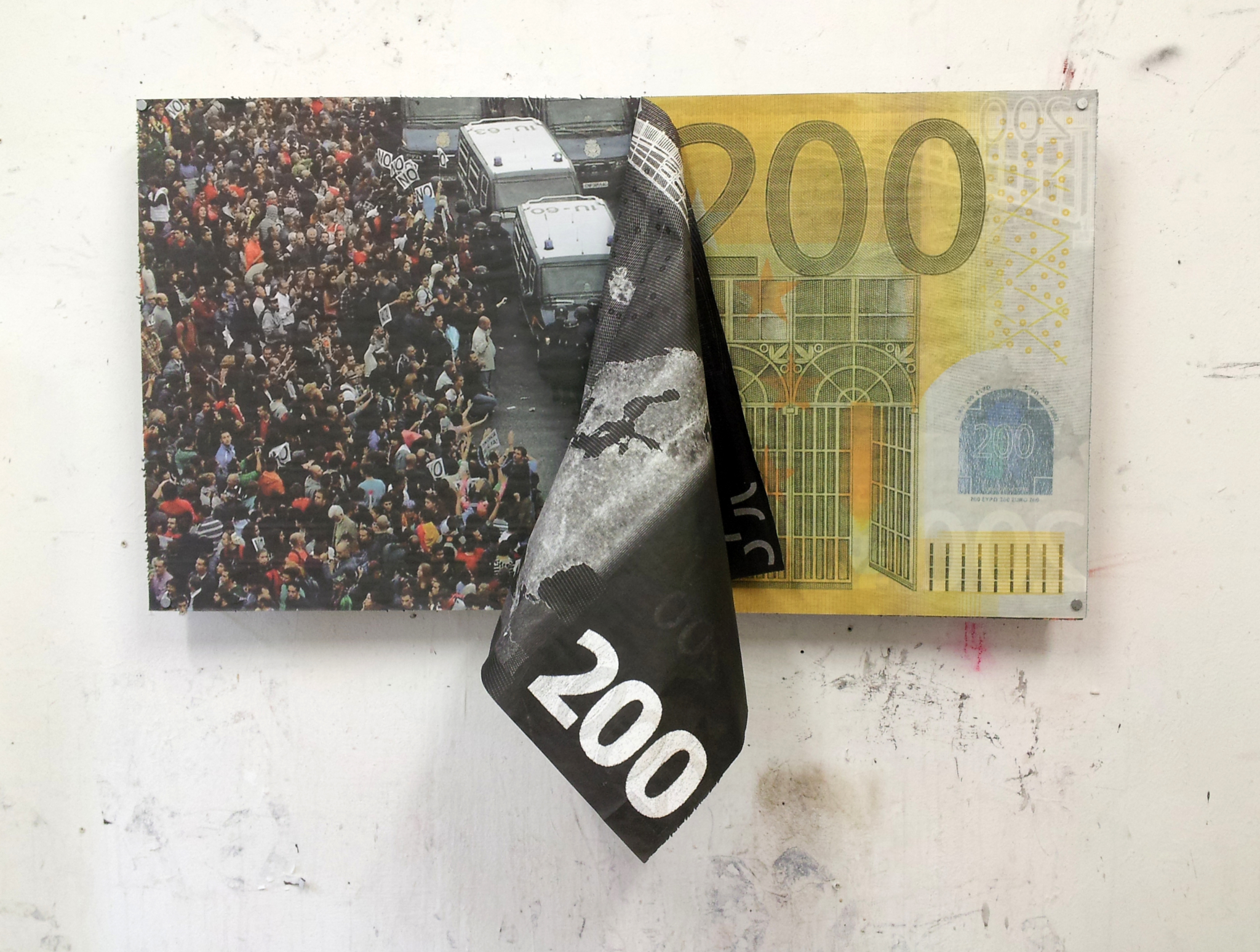 "We don't see the work as separate to social and political movements that are confronting established political and economic systems. We see it as part of those movements, the visual arm of protest."
Here Comes Everybody is an exhibition of work by kennardphillipps, the collaborative practice of London-based artists Peter Kennard (b.1949, London) and Cat Phillipps (b.1972, Edinburgh). It includes a major new installation consisting of an accumulation of photographic imagery, photomontage, digital prints, newspapers and found materials, exploring ideas around image consumption, production and surveillance. From 1-31 August, the exhibition extends to an off-site space in the St James Shopping Centre, Edinburgh where kennardphillipps will run their acclaimed War on War Room with the assistance of Scott Lang. Work produced in the War on War Room, by people from Edinburgh's communities, will be added to the exhibition at Stills throughout August.
kennardphillipps formed in 2003 in response to the invasion of Iraq. They show their work in public spaces of all kinds ranging from the street, museums, galleries, newspapers, magazines and the internet. Here Comes Everybody represents a continuation of their interest in making work that is a critical tool connected to international movements for social and political change. Resistance to the status quo is embedded in their deconstruction of news images and narratives built from everyday materials, photomontage and text. kennardphillipps dig into the surface of words and images to visualise the connection between the oppressed majority and the political and financial elites of the everyday.
kennardphillipps' work has been included in the recent exhibitions: Boom, Bubble & Blast, Motorenhalle, Dresden, Germany (2015); From Heaven to Hell, Boghassian Foundation, Brussels, Belgium (2015); After Image, Galeria Civica, Trento, Italy, (2015); Caught in the Crossfire, Herbert Art Gallery and Museum, Coventry (2013-15) and LIVING WITH WAR: Artists on war and conflict, GoMA, Glasgow (2013).