Exhibitions
Stills at The University of Stirling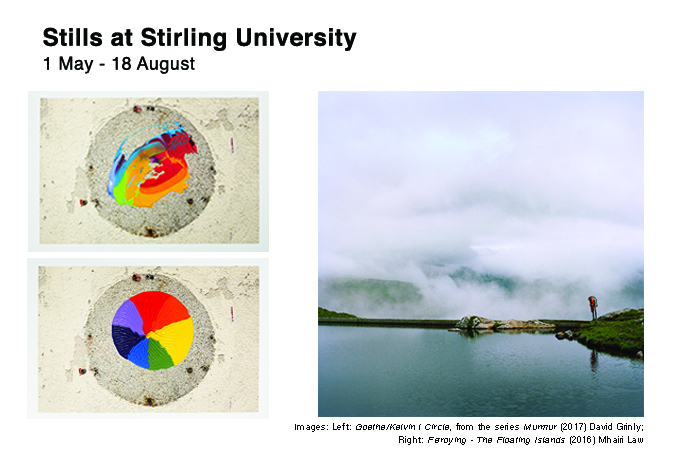 As part of Stills' 40th anniversary programme, we are delighted to present an off-site exhibition to showcase a range of contemporary and historic photography in a unique setting during the year of Stirling University's 50th anniversary.
Location: The Pathfoot building, University of Stirling
Public opening hours:
9am — 5pm, Monday — Friday
The exhibition includes new work by Scottish photographers Mhairi Law and David Grinly as well as images by some of the best-known photographers of the 19th and 20th centuries, including: Ansel Adams, Robert Mapplethorpe, Julia Margaret Cameron and Edward Weston.
Mhairi Law is exhibiting newly produced work made on a research trip to the Faroe Islands in 2016 alongside images from her series Eilean I Island made on the Isle of Lewis in 2014. Law is an award-winning photographer who works predominantly with a medium format camera to make documentary and landscape photographs that explore environmental and social themes.
David Grinly is exhibiting a new body of work from a series called Murmur. Completed in 2017, each of the works consists of a painting on a photograph of a wall. Grinly started making this series in Paris and the title is a play on the sounds of the French words for wall ('mur'), death ('mort') and love ('amour').
Alongside work by these contemporary photographers, we are presenting The Photographic Art: Pictorial Traditions in Britain and America, an exhibition of 25 framed works (photolithographs and rotogravures) featuring images produced between 1843 and 1983. The Photographic Art is a Scottish Arts Council touring exhibition that was conceived and selected by Mike Weaver and first shown at Stills in 1986. The artists and photographers represented are: Roger Fenton, William Henry Fox Talbot, Alfred Stieglitz, Robert Mapplethorpe, Clarence White, Peter Henry Emerson, Wright Morris, Fay Godwin, Frederick H Evans, Alvin Langdon Coburn, Thomas Joshua Cooper, Paul Strand, Carleton Watkins, David Octavius Hill & Robert Adamson, Benjamin Brecknell Turner, Edward Weston, James Craig Annan, Raymond Moore, Frederick H Evans, Alexander Gardner, Julia Margaret Cameron and Ansel Adams.