Image Credits: Alan Hockett, Lorna Simpson, Tom Astbury
---
Elementary Blueprint
1 March – 30 June 2020
Nationwide exposures and online exhibition
Project deadlines announced – see below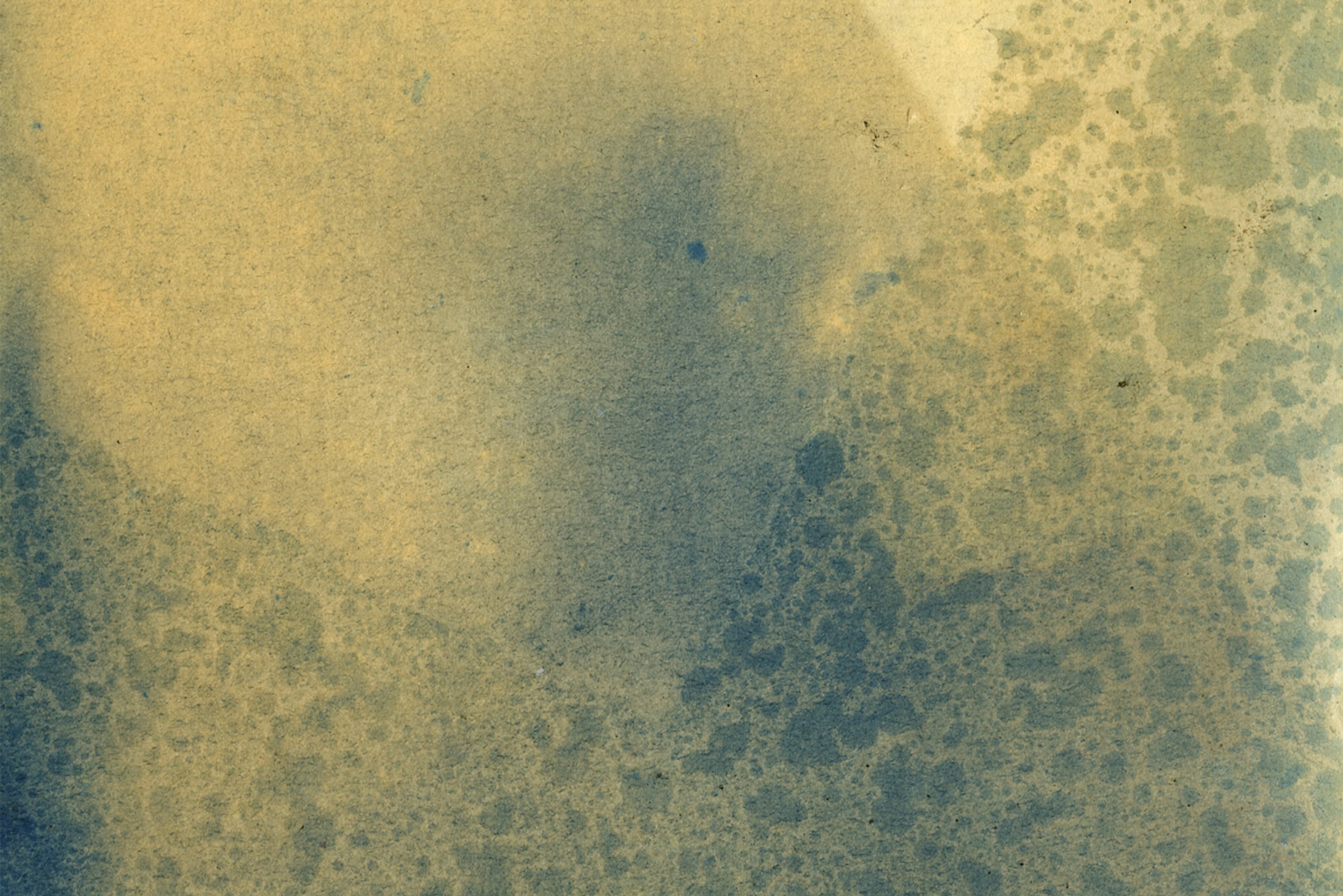 Elementary Blueprint was originally planned as a creative experiment for participants across Edinburgh. We wanted to create an alternative photograph of our city using the elements and, in the middle of March, began to post cyanotype paper to community groups and individuals across Edinburgh, with instructions to expose the sheets outdoors, so the paper would be developed by the sun, wind and rain over a 2-week period. We couldn't have imagined how much the world would change over the weeks ahead. And so Elementary Blueprint has changed too; we are now making this an online project and opening it up to participants from across the UK – we want as many people as possible to take part in this creative project. Help us create an alternative document of this challenging and extraordinary time.
Here's how…
First you need specially-coated 'cyanotype' paper, if you already have this then you're good to go, but if you need us to send you some click here. We will post out paper for as long as it is safe to do so.
Next, take your coated cyanotype paper outdoors and expose it to the elements. Please be mindful of your safety and the safety of others when you do this. If you are self-isolating and cannot leave the house at all you can put the paper on the outside of your window.
Leave it in place for as long as you like – an hour, a week, an entire 14 days. Please note: you do not need to wash your print as you would with regular cyanotypes – unless you want to.
Take a photo of the results and email it to us at info@stills.org or #elementaryblueprint on Instagram, Twitter or Facebook. Please note the postcode of the area it was exposed and the date(s) of exposure. If you don't want to give us the full postcode the first half will be enough.
We'll be exhibiting entries in an online exhibition – watch this space for more details soon. You can also sign up to our mailing list for updates in your inbox.
Project Deadlines:
Sunday 31st May – last day for orders of cyanotype-coated paper from our website.
Sunday 21st June – last day for digital submissions of your cyanotypes if you'd like them included in our online presentation.
Tuesday 30th June – online presentation of all digital submissions.
Live overseas and want to get involved? We can't post paper internationally, but if you have your own supply then please send us a photo of your Elementary Blueprint following the instructions above.

Read more on the Edinburgh Science Festival website here.
---
Recapture: A creative adventure through Edinburgh's photography archive.
September-December 2019
Exhibition:
7 Dec 2019—12 Jan 2020
The Recapture project set out to explore themes of belonging and what Edinburgh means to us, using photography to capture and recapture what it means to live here, what can we discover from photographed moments from the past and how can we develop new artwork in response – to help build a sense of place for new Scots.
During the sessions the group of young people explored digital archive photography of Edinburgh, including The Scotsman newspaper photography. We visited the Historic Environment Scotland archives housed at John Sinclair House and the exhibition "Scotland's Photograph Album, The MacKinnon Collection".
The sessions have mostly taken place here at Stills. This city centre location on Cockburn Street has been key to the young people's work with artist Leena Nammari. They have had the opportunity to use professional photography equipment and trial traditional darkroom techniques, such as making cyanotype prints. The group also used digital approaches and contrasted 'Then and Now' re-photography with Tom Duffin.
The Recapture project has been underpinned by the Arts Award allowing all participants to gain a recognised qualification.
Recapture is a photography & archive project for young people developed in partnership with See Think Make, Stills Centre for Photography in Edinburgh, Scran part of Historic Environment Scotland and the Multi Cultural Family Base.
Generously funded by the Heritage Lottery fund.
---
Relevant links