Please note that we have had to limit our facilities operation in line with Government guidance.
More information on our procedures can be found here.
Stills' digital lab are situated alongside our darkrooms below the gallery. We are dedicated to providing access to the latest digital technology in a friendly, comfortable and professional environment.
Our facilities have been designed to allow you to take full control of your production process, from start to finish. Apple Mac workstations allow you to deal with large files quickly and easily while our Epson SureColor P7000 A1 printer enables you to produce large scale, archival quality, ink jet prints on some of the best fine art papers.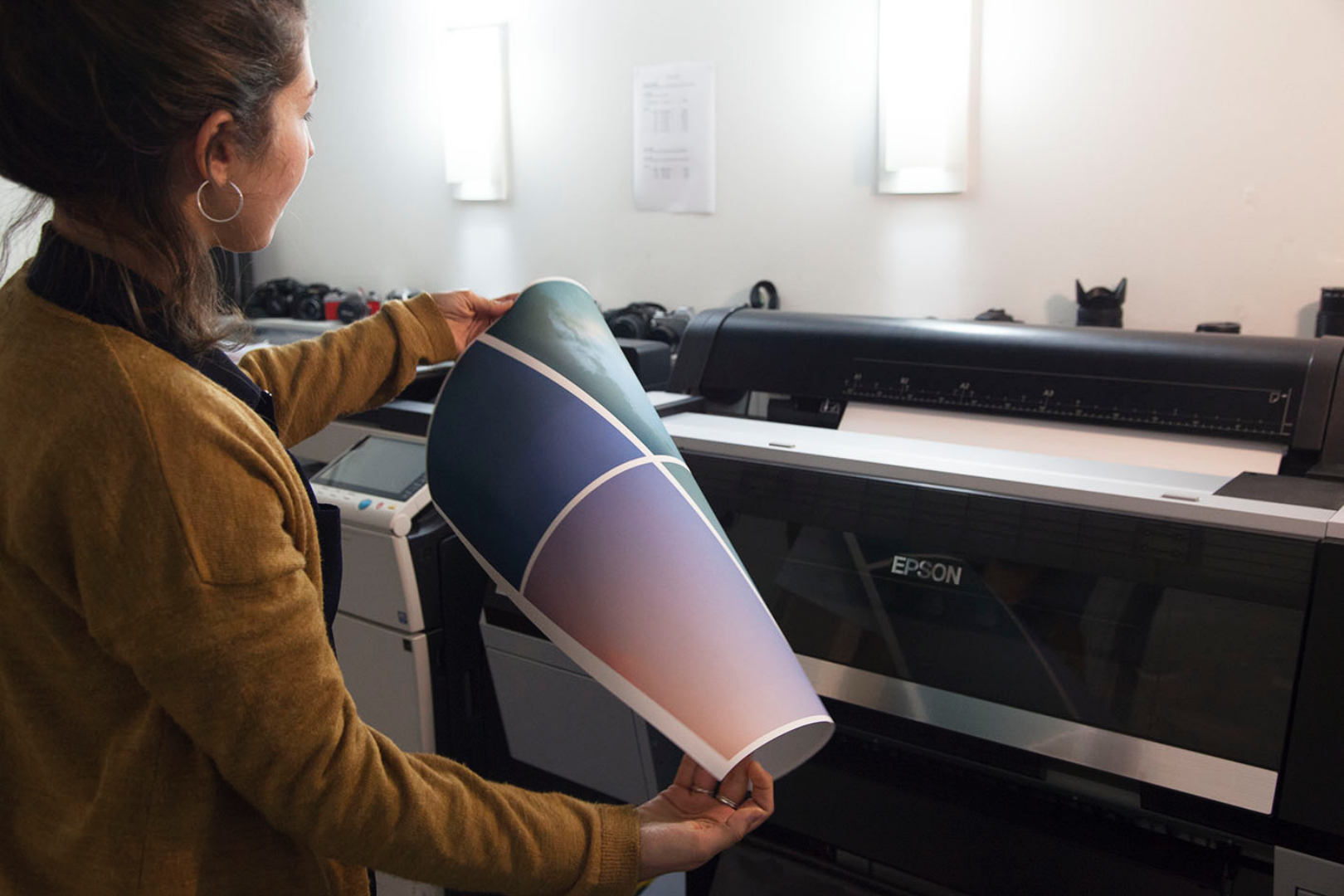 Digital Facilities include:
Hasselblad X1 Flextight film scanner
High-end virtual drum scanner, with magnetic holders for 35mm single frame, panoramic 35mm Xpan, 35mm strip (4 frames), single 6×6/645 frame, 120 strip (4 frames) and 5" x 4".
Epson Expression 10000XL Pro flatbed scanner. A3+ Document table allows for large image capture. Comes complete with holders for scanning 35mm mounted slides, 35mm negatives, 120 and 5×4 negatives.
A1 Archival Inkjet printer stocked with Hahnemühle PhotoRag Baryta or Matt Fine Art PhotoRag Roll papers. Best suited for large format printing, this roll printer offers high quality archival prints suitable for exhibition, sales and portfolio.
A2 Archival Inkjet printer stocked with PhotoBlack Epson Archival Inks (for all paper surfaces except matte). We can provide a small stock of Harman papers; Harman CrystalJet Elite Gloss 260gsm, Harman CrystalJet Elite Lustre 260gsm (upto A3 size), or you can bring in your own choice of papers.
Apple Mac workstations with Adobe Creative Cloud
27" iMac workstations running Adobe CC – including Photoshop, LightRoom, Illustrator, InDesign, Dreamweaver and Bridge. A4 and A5 Professional Wacom graphics tablet are also available for accurate drawing and retouching with all creative software. These provide a pressure-sensitive stylus for precise brush strokes and fast workflow.
iMac Workstations running Adobe Creative Cloud sotware including Premiere Pro CC, After Effects CC as well as Final Cut Pro X, Compressor and Motion. We can also provide access to older software as part of the Final Cut Pro Studio 2 (comprising Final Cut Pro 6, Motion 3, Sound Track Pro 2, Color & DVD Studio Pro 4) with peripheral hardware for miniDV tape capture, Mbox audio interface and BluRay burning.
Consumables
A wide range of consumables including paper and ink are available to buy in the centre at reasonable prices.
---